Embrace Instagram for Sales Success
Whether you're an Instagram expert or a novice, a few simple tips can help you create posts with ease and boost your profile. We'll start at the beginning for those of you new to the popular platform. But even if you're a regular, we have some advice that can help you generate more sales for your clients. We've developed this guideline just for land brokers and real estate agents to help you get started on your way to becoming an Instagram sensation. It's easy. Let's make an Instagram post.
First, the Basics
Instagram makes it very simple to post onto their platform. At the bottom of the Instagram app, there is a toolbar that provides a range of options to navigate the app. From left to right:
House Icon – The house icon showcases what Instagram calls your "feed." The feed displays posts from the accounts that you follow.
Magnifying Glass Icon – The magnifying glass takes you to the explore page. The explore page allows you to search for specific users and see posts that Instagram recommends based on the accounts you currently follow.
Plus Sign Icon – We'll focus on the plus sign in this article. It's what allows you to add new posts to your Instagram profile. New — and frequent — posts are key.
Heart Icon – The heart icon shows the recent activity on your account such as new followers, comments, and likes. The more hearts the better!
Profile Icon – Lastly, the icon with your profile picture is your profile page where all of your posts are displayed in little squares on a grid.
Let's Make an Instagram Post
Selecting your Image/Video
When selecting the media to post to your Instagram profile there are a couple of options. Instagram allows you to post both images and videos. Let's talk about images first.
Images
Instagram allows the user to upload up to 10 images per post. Choosing multiple images is a great way for land brokers to show a variety of images for a featured listing. But if you only have one photo, don't worry. A single image is a terrific way to emphasize a property. When selecting a signature image for your property, think about how it will look on the VERY small screen. Most people follow Instagram on their phones, so edit with an eye toward clean, uncluttered images with a single, central focus. For example, landscapes are a  good choice. A landscape with a flowing creek in the foreground is better. But a landscape with a flowing creek and cows and someone fly fishing on the bank of that bubbling creek might be too much.
Click the plus sign at the bottom of the app.
Then select a photo from your photo album that you would like to post.
After selecting your photo, if you would like to create a post with more than one photo click the icon that says "select multiple."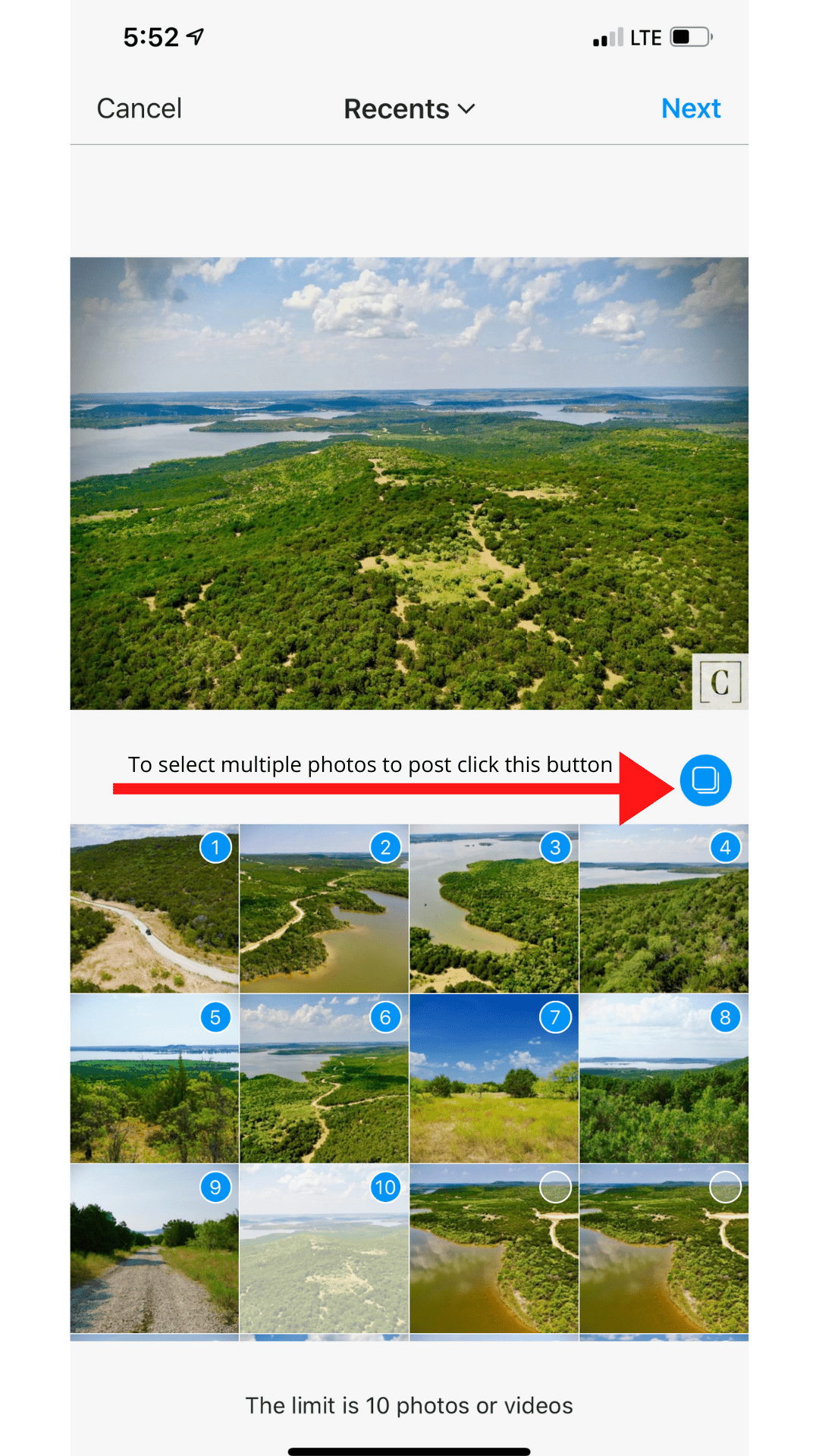 Videos
To create a video post, select the video in your photo album the same way you would a single image. Videos are limited to 1 minute, but the posting process is the same as posting a single image. (See step by step instructions above). As with still images, edit your video ruthlessly. A minute is both not much time to showcase a property and a long time for someone to watch. Think movie trailer. Showcase the best bits. Aerials shot with a drone are a great way to introduce a ranch and are fun for your followers to watch.
Write a caption
Keep it concise. Captions can be informative, witty, or even entertaining depending on the goal for that specific post, but they should always be SHORT. New listings and land posts typically reflect a more informative tone. A behind-the-scenes post can be less formal with a bit of humor, but always keep it G rated and avoid allusions to politics and other tricky topics. You wouldn't think we'd have to say this, but we do. Don't ever post anything you wouldn't want to see on a billboard or defend in court. It's a good idea to have someone read a post before you push the button, and always check your work for typos.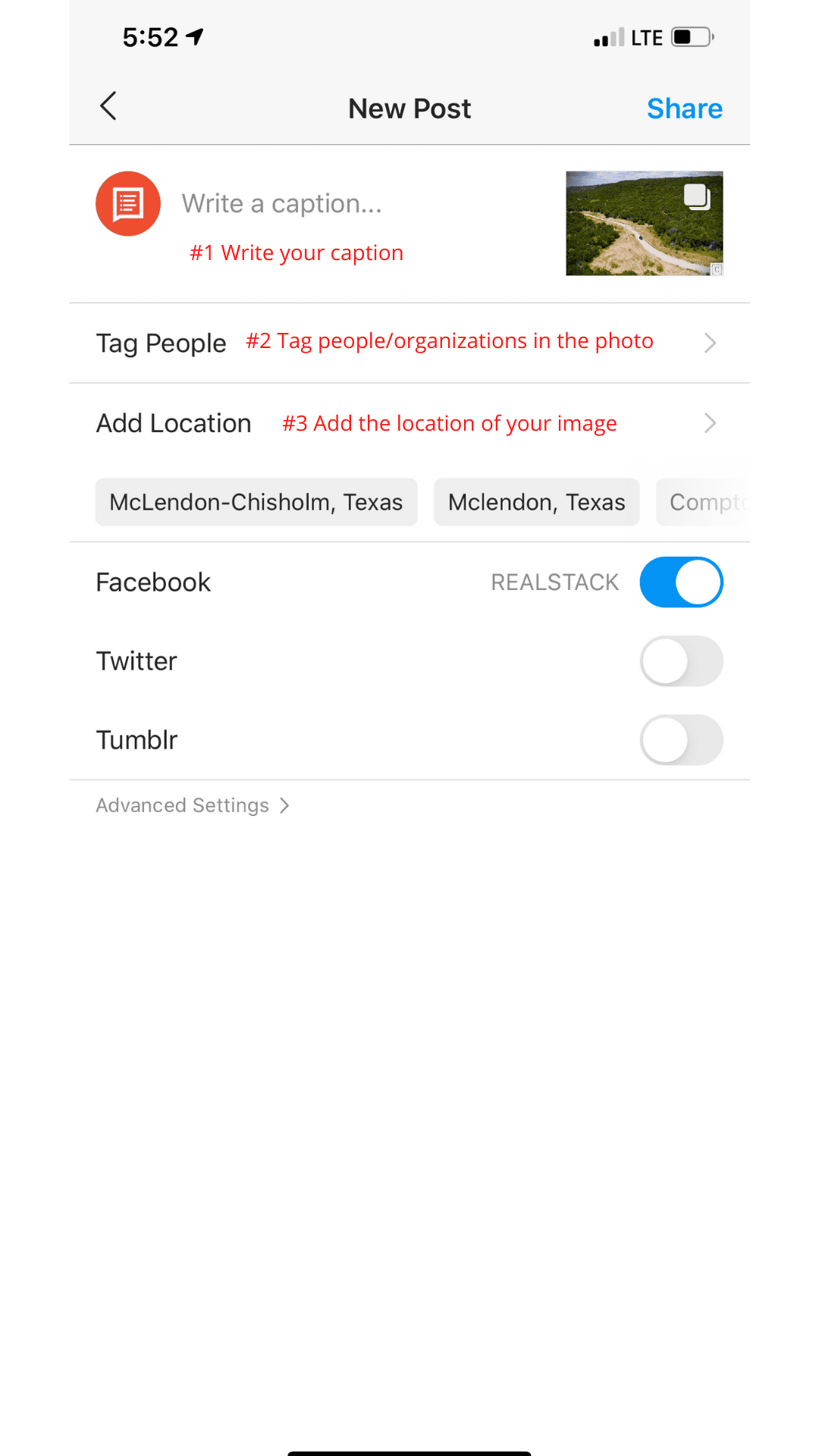 Emojis are social media spice — a great way to get attention and add a bit of zing but not to be overused. Try limiting yourself to no more than three emojis per post so that the symbols don't clutter the copy. One exception to this is if you are using emojis as bullet points to list a property's features as shown below.
Spring Break Activities:
? Explore
⛷ Ski
❄️ Snow Shoe
? Nordic Ski
? Fly Fish
? Snow Mobile
? Experience History
? Home
What are hashtags?
You've seen them everywhere–a pound sign followed by a word or two. But what purpose do they serve?  In the Instagram world, hashtags are a great way to boost your post and have it "discovered" by people who don't follow you. In your niche, there are specific hashtags to connect you with others who are also interested in your field of work. Instagram has a new feature where you can follow hashtags that are relevant to your market such as #landbroker or #realestate.
Hashtags can be used at the end of your caption. We recommend using 10-15 hashtags per post so that you receive optimal exposure.
Here is a list of hashtags that we believe are most relevant to land brokers. You can mix up this list depending on the post and what hashtags you feel would best suit the subject.
#landbroker #landbrokerage #realestate #ranchbroker #land #farmlife #ranching #justranchin #rancher #ontheranch #horses # ranchforsale #landforsale #outdoorlifestyle #cabin #mountainhomes #ranchland #landbrokercoop #ranchrealestateagent #wildlife #ranches #hunting #ranchrealtor #farmforsale #inrealestate #fishing #huntinglandforsale #lakeproperty #huntingland #landleader #farmandranchrealestate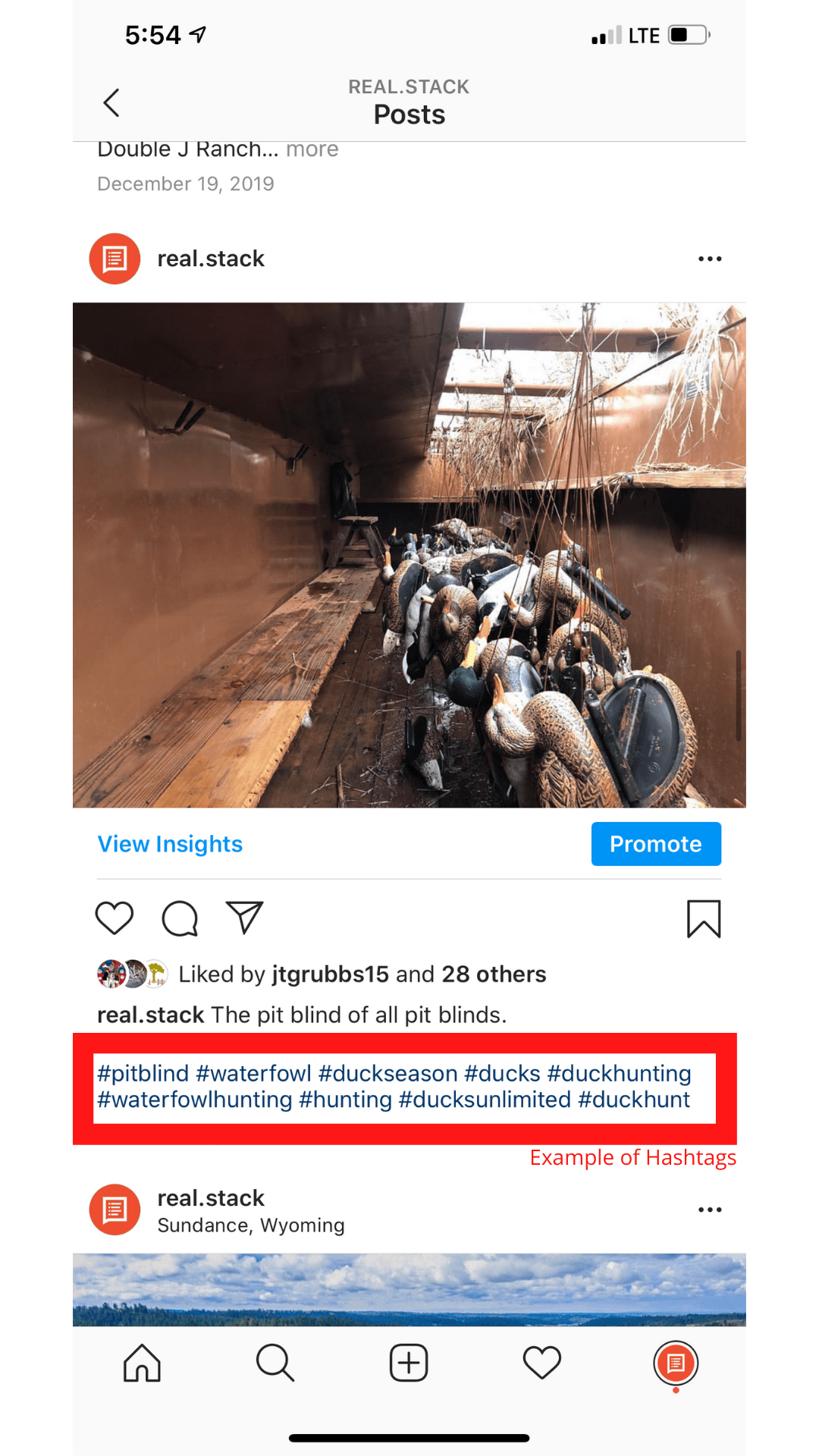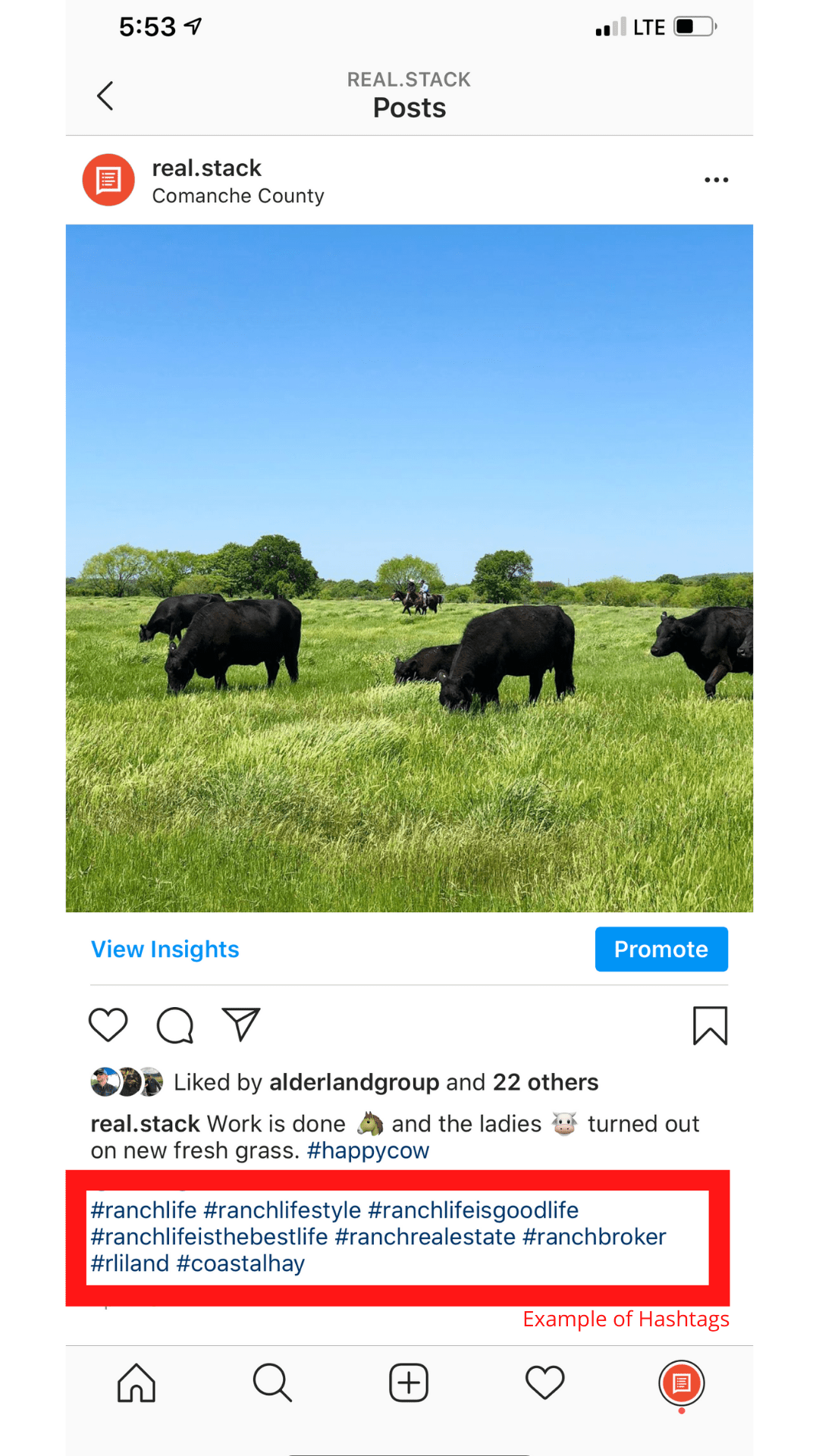 Instagram is truly instant and ubiquitous. Once you've got the hang of it — and remember, it's easy — posting can be quite fun and lucrative. Become a follower and learn from the Instagram stars in real estate, the outdoors, retail, the arts, and any other field that interests you. You'll quickly pick up a rhythm of your own and learn what works for you and your audience, as you boost your company's profile and the properties you sell in Instagram posts.
Learn more about growing your audience with the strong foundation of a land broker website.