Land Brokerage Websites
Industry leading land broker websites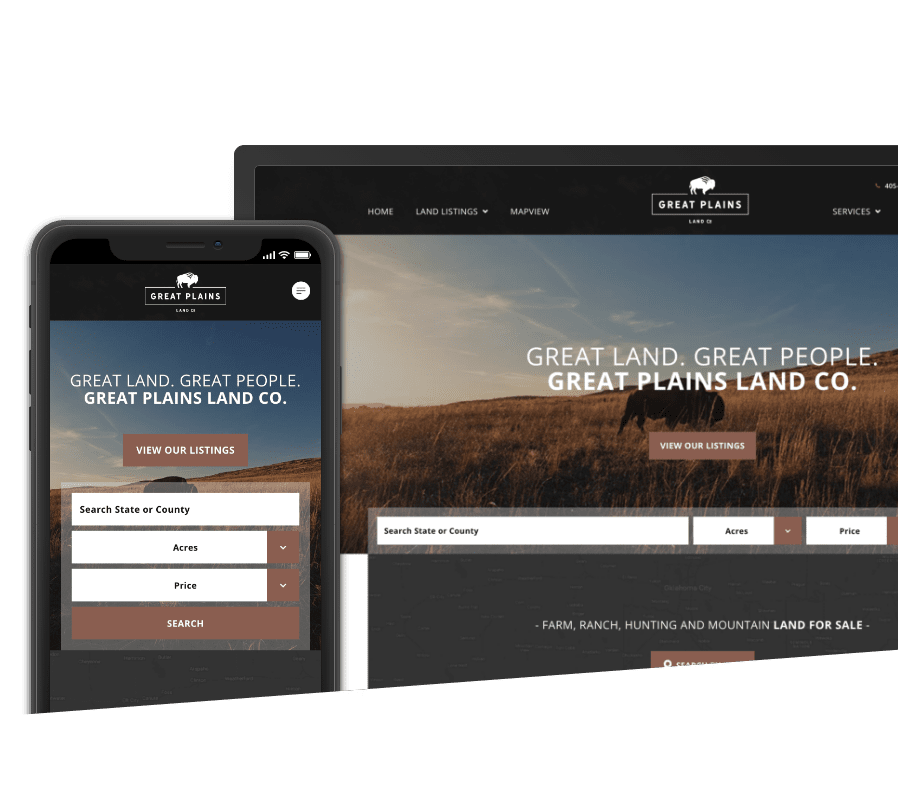 Look The Part
Creative Website Design
Look the part. Setting the brand standard for your brokerage is the first impression. With most land buyers and sellers going online at any point in their journey, you need a website that best represents you and your team.
Each one of our land broker websites is uniquely crafted for your brand and delivers a distinct look. We begin every project with a full planning stage to ensure we deliver a design that is second to none and is spot on with your vision.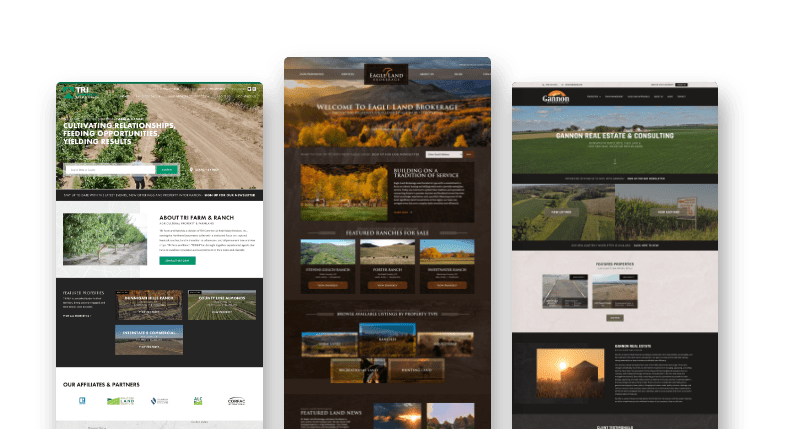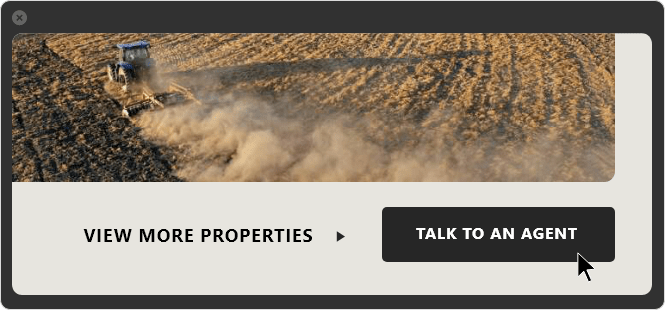 More Website Leads
More than a pretty website, we build websites that convert. Your new land broker website will be packed full of lead conversion forms to provide more opportunities for website visitors to contact your agents.  Lead forms, click-to-call, click-to-text, and more ways to convert leads.
Building an audience is one of the most challenging initiatives in the land industry, but with REALSTACK land broker websites, you can now do it easily.
Request Demo
Lots of Maps
Property maps are invaluable to land professionals, and we've provided every way we could think of to give you property map options. From integration with interactive map providers to downloadable PDF maps, your website visitors will be impressed with the options they have to study your property maps.
We integrate with the land industry's leading map providers to display individual properties and offer PDF map uploads for aerial, topographic, locator, and more. Website visitors have a full experience interacting with maps, downloading KML, getting driving directions, and downloading maps.
Request Demo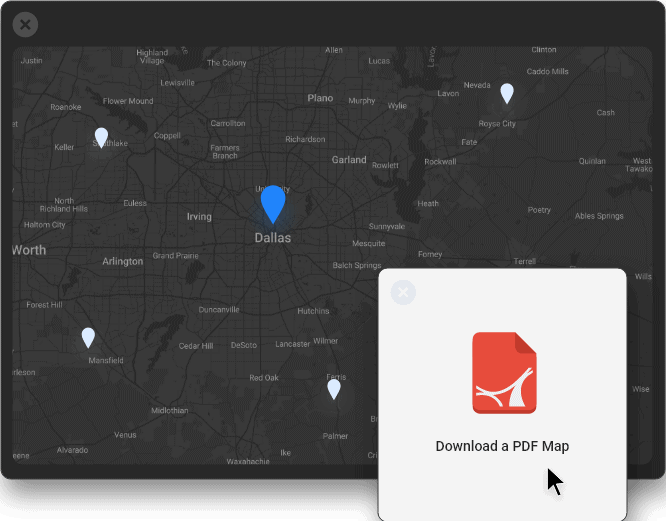 Search Properties Easily
Providing the easiest yet most advanced land search tools on the web. Our land broker websites come standard with a powerful search technology to filter the properties by just about any search criteria a website visitor can imagine.
Search filters for one or multiple counties, states, cities, acreage range, price range, types, status, and much more. Built to allow a website visitor to easily be able to find the right property quick.

Request Demo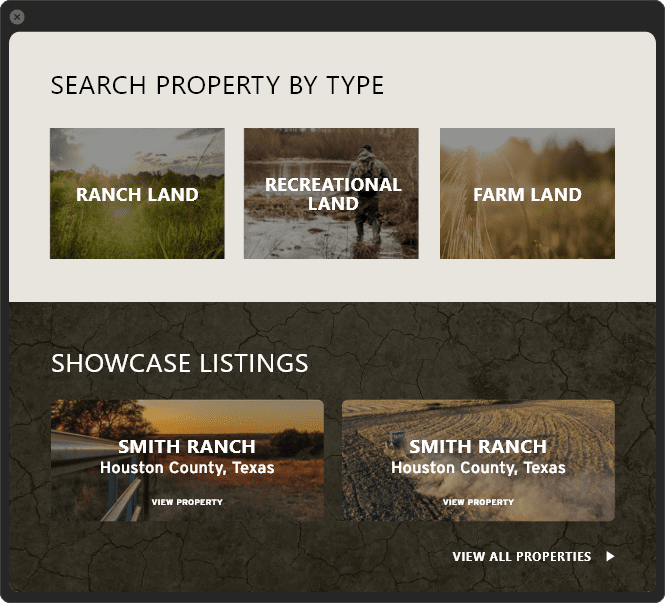 Group & Feature Properties
Prebuilt groups of properties make it easy for website visitors to find the properties they are looking for quickly. It can also exponentially improve your opportunity to rank on Google for target keyword phrases.
Group your properties by state, county, region, ranches, farms, residential, subdivisions, acreage ranges, price ranges, and just about anything you can think of.
Featured listings allow you to highlight your most prized properties. Display your best of the best properties or newest listings on your homepage. Either of these always makes your homepage look fresh and keeps visitors coming back to check out your site.
Want to showcase certain sold properties?  You can also have featured sold listings displayed on your land broker website.
Request Demo
Agent Profile Webpages
Add value for all your agents and let prospective customers get to know them better by setting up team member profile web pages. With their dedicated URL, they can display all their key profile information such as headshot, bio, social links, phone, testimonials, active and sold properties, personal video, lifestyle photos, and in agent lead form.
Also, it is fully optimized for Google, so when people search for an agent's name, they can appear on the search results.
Request Demo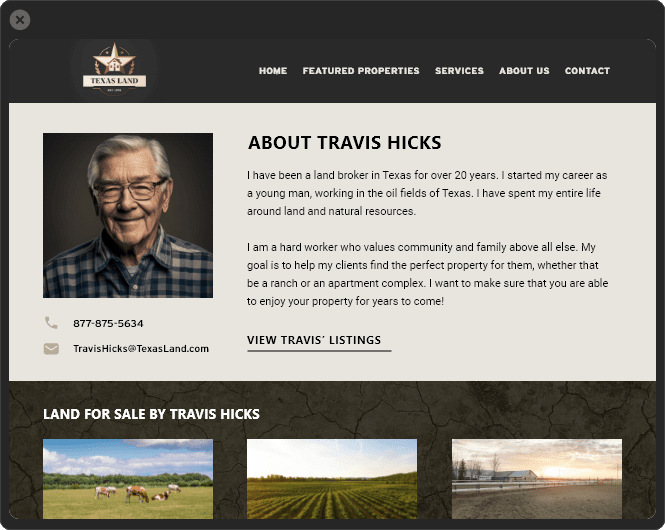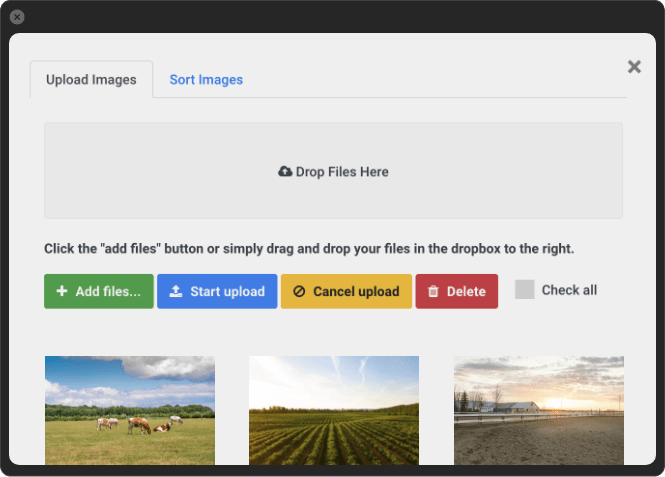 Photos & Videos
Latest technology for fast-loading photos and the best possible resolution.
Photos and videos are critical in marketing and selling a property. REALSTACK photo technology optimizes images, delivers through a content delivery network (CDN), displays in optimal height and width dimensions, and creates a photo gallery user experience that is easy for site visitors.
Videos are the best marketing medium for marketing land. We give it the same priority on your land broker website.  A video can be integrated into the photo gallery for a premium display position, and users can also add a second video to a listing.
Request Demo
Efficient Projects
Experience your first website project that is painless and smooth. REALSTACK knows the playbook for land broker websites and understands the language of land professionals. We have industry expertise, technology skills, and a toolset built perfectly for land pros.
Running clean website projects through our proven process comes standard on every project. A complete site plan is built during the planning stage, a website design is delivered for review and approval during the design stage before we ever write one line of code, the planning and design stages then enable our team to build exactly what the client wants, and finally the rollout stage is packed with checks and balances to ensure a successful website launch.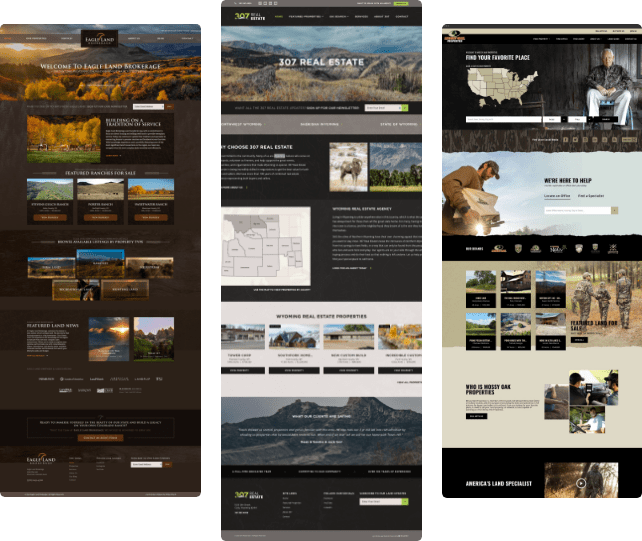 Step 1

Plan

Planning facilitates laying the foundation of the entire project. We establish the purpose, functions, and overall flow of the website and identify your target audience. REALSTACK will work closely to gather assets to prepare for design.
Step 2

Design

After discussing design elements for your site, like branding, color scheme, and any additional add-ons requested, the visual design representation of the website's layout will be provided for your review and approval.
Step 3

Develop

Once approved, the visual design will transition to the build stage where the site development begins. We will integrate your provided content, team members, and other assets needed to complete the development.
Step 4

Launch

Once the website has been developed, it undergoes a rigorous internal review. If it meets the standards set by our team, it will then undergo a final review by the client. If approved, your new website is is officially launched!
Optimized for Google, Mobile, and More
From fast loading photos and web pages to fully mobile responsive websites, we've thought of everything you didn't know existed to have a top performing website. These days land brokers need more than just a pretty website. This requires technical expertise you can't get from entry level web sites.
REALSTACK runs client websites on the latest hardware, code optimized for speed, photos for snappy loading, and responsive mobile designs to give your site the best chance of appearing on Google search results.
Get Started