Land Sales Comparables
A private database of searchable land comps for your brokerage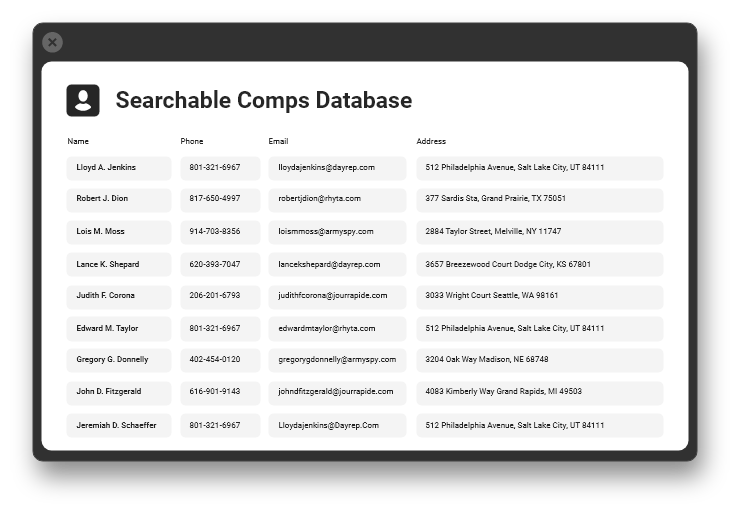 Searchable Comps Database
Coming up with comparable sales is a chore for you and your entire team. Now there is a place to store all your comparable sales information for your brokerage. You can create comparable sales from your sold listings, other sales in the area, and from appraisals. It also provides the opportunity to save valuable information such as dwelling info, improvements, land use, crops, minerals, utilities, and many more key data points for a comp.
Once you build up a nice database of comps, your team members can all search this database by counties, acreage range, sale date range, and more to get the most accurate information showing per-acre averages for asking price, sale price, land value, and a lot more summary information. Set yourself apart with prospective sellers by backing up what you say with data!

Detailed Comps Information
Full-featured data points and summary information
Asking price per acre
Sale price per acre
Ask versus sale price percentage
Days on market
Downloadable spreadsheet of sale comp records
Average sale price
Land value asking price per acre
Land value sale price per acre
Aerial map of sales comps
Downloadable and printable individual sales comp report
Sort and filter dataset
Full dataset of sales comps listed
Printable view of sales comp records
Ask versus sale price percentage
Downloadable and printable full summary sales comp report
Printable Reports
Impress your next prospective seller with your tracking of local sales comparables and the professional reports complete with your brokerage branding.
Download and print several report views: a full report, individual comp sales detail, listing comps within the filtered results, a spreadsheet of filtered results, and the map.
Reach out to Sales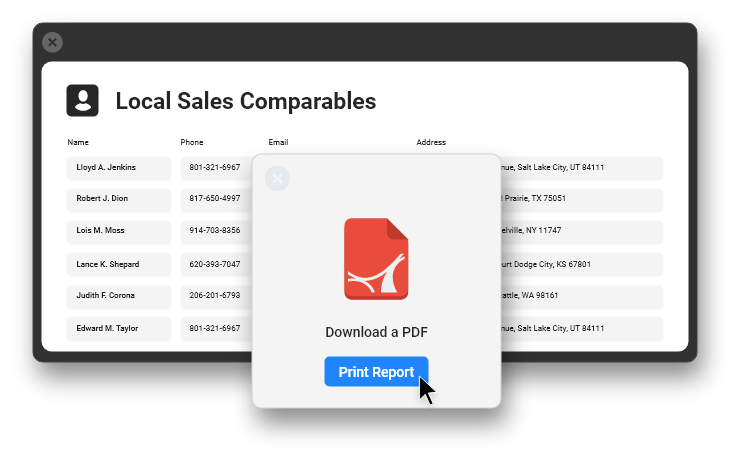 I've been so impressed and satisfied with our re-branding initiative with REALSTACK that I'll never revert to me designing things I don't understand. They simply have a much greater understanding and I want to lean on that experience for all my future designs and branding.
The team at REALSTACK is the "real deal", all marketing bases are covered in a systematic way – and the results for our company are the proof that their systems approach works!
REALSTACK brought a level of branding and market positioning to our business we absolutely could have not achieved on our own. In addition, we had our best sales year ever shortly after partnering with REALSTACK. They have proven to be difference makers for our sales and client services.
Since moving our land broker website over to REALSTACK, our lead volume has increased significantly. Super happy with the result of that decision. Additionally, the feeds to our online advertising websites have saved me endless hours of work and allowed us to manage listings from one system