Simple Lead Management
Finally a way to manage leads for land brokers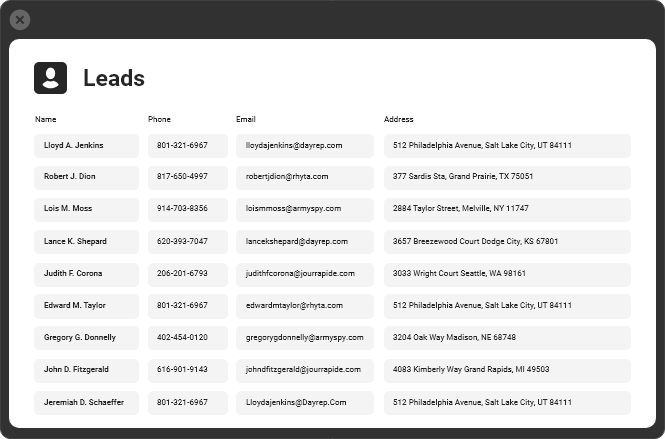 Save Everyone's Leads in One Place
Your brokerage paid hundreds, if not thousands, of marketing dollars for that lead to convert on your website.  Why not automatically save that lead in a lead management system for future marketing and reference?
Gone are the days of leads going into an agent's email inbox, never to be seen again.  Your website leads are automatically saved in your REALSTACK profile and associated with a listing they were interested in. You can also bulk upload your leads list or enter them directly.
Even more, you can download your leads at any time and add them to your email marketing list!  Ask about our integration with MailChimp to automatically feed your leads to this email marketing platform.

Contact Us Today
Lead History Profile
When you look up a contact, you'll be able to see a complete history of any activities. This allows you to look back at the activity history of showings, meetings, listings they've been interested in, offers, and more in an instant.
In many situations, an activity is automatically saved for a lead each time they take action on your website.  Users can also enter activities to document calls, meetings, showings, text messages, and much more.
A Lead's Interested Properties
Knowing which properties or types of properties this lead has been interested in over time can be highly valuable in serving them. In REALSTACK, you'll be able to see what listings they downloaded brochures, contacted a listing representative, or called into your office to discuss.
Request Demo
Set To-Dos for Yourself and Others
You just finished up a meeting and need to follow up with a prospective seller in 2 weeks. With REALSTACK's simple lead management, you can set a to-do item to appear on your list of things to do for that day. You'll now follow up on time and make an impression on the prospective seller.
What if a phone call comes into the main office about a property, but the agent is unavailable?  Log the call in REALSTACK as an activity and assign a to-do item to the listing representative for that property.  The agent will receive an email notification about the to-do assignment, and it will appear on their incomplete to-dos list in REALSTACK.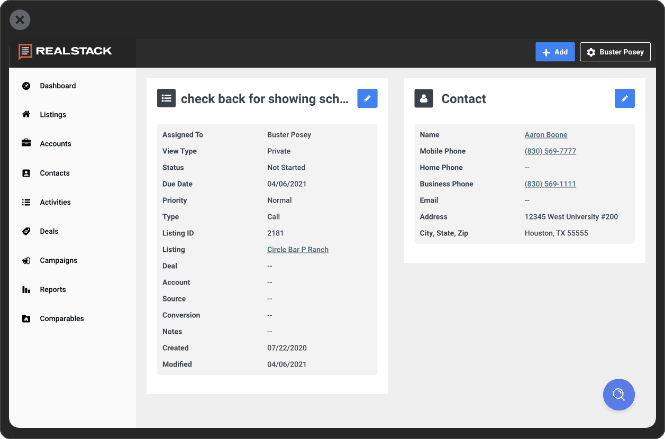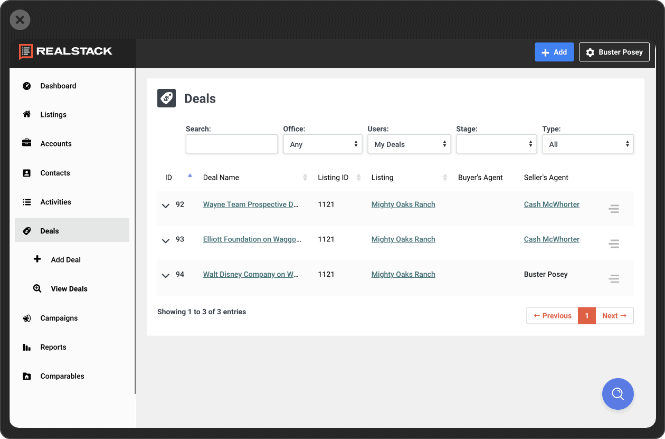 Track your Deals Pipeline
Track your offers through the entire sales cycle.  When you receive an offer on a property, you can add a deal to the listing for great record-keeping, reporting, and being more efficient at scale.  You can also track your pipeline of income or brokerage revenue as a result of knowing the value of all your deals set to close soon. Deals can be tied to a listing, a lead, other brokerage agents, and more.
The deals tracking system within REALSTACK can also be used for transaction management and reporting.  Here are just a few of the items it tracks: buyer rep, seller rep, title company, gross commission, net commission, commission splits, co-listing fees, and much more.
Lead Collector
You get leads from land industry websites, but you only talk to them once, and they are forever gone. With Lead Collector from REALSTACK, our system can automatically capture your leads from Land.com, LandFlip, LandWatch, and others and save them in your account plus associate the lead to the listing.
This is a gold mine of new leads to grow your marketing audience. Why not capture them in one system to continue to market to these leads?
Request Demo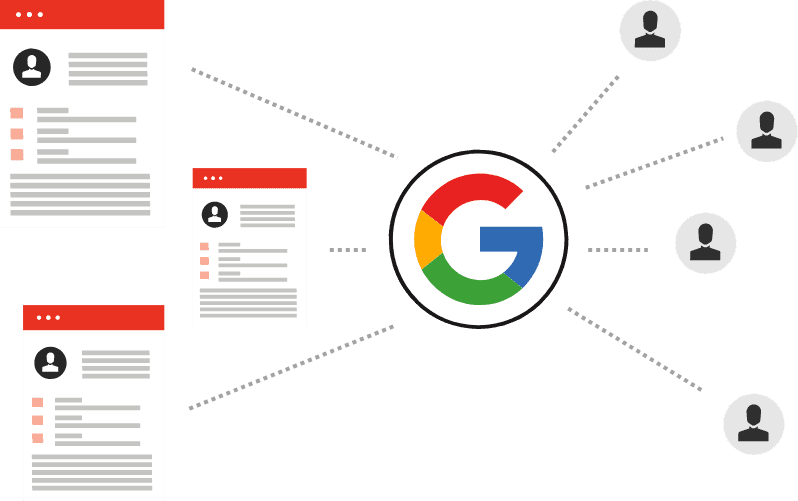 I've been so impressed and satisfied with our re-branding initiative with REALSTACK that I'll never revert to me designing things I don't understand. They simply have a much greater understanding and I want to lean on that experience for all my future designs and branding.
The team at REALSTACK is the "real deal", all marketing bases are covered in a systematic way – and the results for our company are the proof that their systems approach works!
REALSTACK brought a level of branding and market positioning to our business we absolutely could have not achieved on our own. In addition, we had our best sales year ever shortly after partnering with REALSTACK. They have proven to be difference makers for our sales and client services.
Since moving our land broker website over to REALSTACK, our lead volume has increased significantly. Super happy with the result of that decision. Additionally, the feeds to our online advertising websites have saved me endless hours of work and allowed us to manage listings from one system