Lands of America property types change may be somewhat painful early on, but this is a great move by the awesome folks over at Lands of America.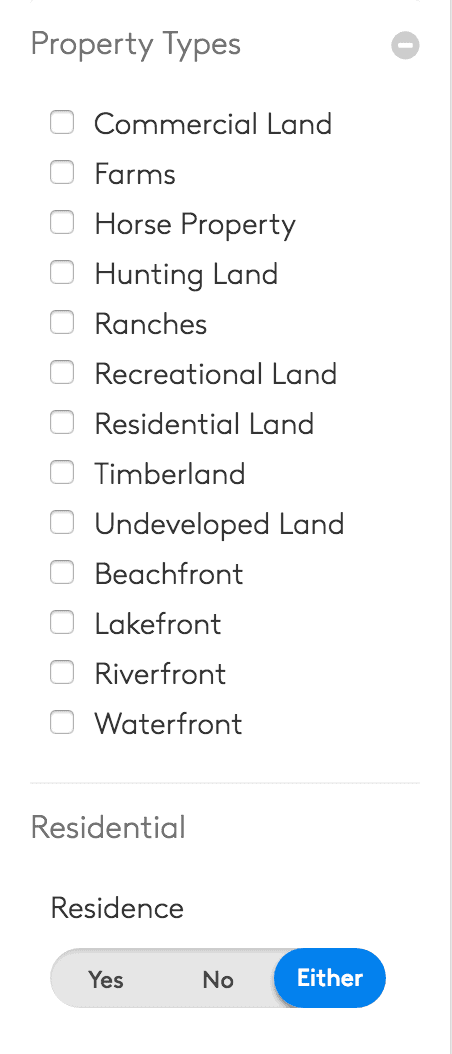 We believe it is a great change because forever it seems Lands of America property types were "Acreage" and "Acreage w/ house".  LOA have now separated these in the most perfect way and added attributes that can apply to all new property types.  The bulk of property types will apply to these new Lands of America property types:
Farms
Ranches
Timberland
Horse Property
Undeveloped Land
There are other property types, but 1 through 4 above will cover the bulk of listings land professionals market on LandsofAmerica.com.
The next great move by LOA is what we call "sub-types" because any of these can be selected in addition to the above property types.  Collectively LOA is calling these Waterfront sub-types.  These sub-types are:
Riverfront
Lakefront
Beachfront
The final great move they made was making "House" applicable to any Lands of America property type.  Adding a house to any property type is a simple checkbox in the property control center.
Ultimately they've made it easier for the consumer to find the property they are shopping for much easier.  Secondarily, they've now made it easier for land pros to find similar properties on market.
LOA agents and brokers need to login to their property control center and update listing types for each of your properties.  They have migrated many of the existing listings, but the migration isn't perfect.  For example, many timberland tracts are not marked as such and riverfront tracts are not completely accurate.  Definitely login and make sure all the property types for your listings are correct with the new features.
So from us over at REALSTACK, we want to give kuddos the the team over at LOA for a great move on Lands of America property types.