The days are moving crazy fast at REALSTACK.  We've built a ton of new land broker websites and added countless features.  Here are just a few:
New Features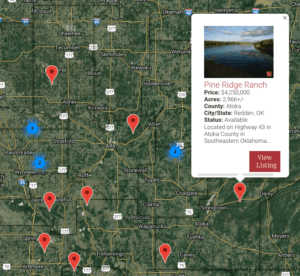 MapView – Ever wish you had an aerial map of all your available properties on your website?  Introducing our all properties MapView.  Not only can you display all your available properties, but we can also display sold properties.  [Read the full article about MapView here]
Tags – With the new tags feature, you can group and categorize your properties in ANY way you choose on your website.  Would you like to have webpages for waterfowl property, deer hunting land, big game property, elk hunting, mule deer hunting land, neighbors public land, subdivision/community/development, region, or other?  Now you can with collection tags with REALSTACK's land brokerage websites.
Track Listing Views – REALSTACK website system is now tracking listing views.  Track how many views each property gets and share it with your sellers.  See the views on the Listing Performance Report.
Listings Search Box Now Searches More – Within the application, the text search box for listings now searches acres, county, state, listing rep, listing type, listing status, listing ID, and more.
New Feed to FarmandRanch.com – Our LandSync product now integrates with FarmandRanch.com meaning if you have an account with them, just let us know and we'll feed your listings automatically.  Keep all your listings in sync with REALSTACK.
Private Label Comps PDFs – In the LandVault feature (private repository of comps), brokerages can now private label the printable PDF reports with your own logo.  Your company logo can now display on reports such as Listing Comp Detail and Comp Sales Report.
MapView of Comps – The same MapView technology that runs on brokerage websites is also available in LandVault comps system.  View all your comps or a filtered list of comps on the aerial map with listing details.
Autogenerated Comps – Previously in REALSTACK, you could create a comp from a sold listing manually.  But now brokerages can set sold listings to autogenerate a comparable.  Super handy for large brokerages handling 100s of listings.
Lead Forms Spam System – A new contextual spam filtering system has been crafted by the development team.  This proprietary software now can filter on topical phrases and words to virtually eliminate website lead spam.  This filter also incrementally gets smarter everyday by increasing its phrase match technology.
Notifications System – We introduced a new email notification system for our users to receive lead notifications, task assignment, listing assignments, and other general alerts.  These nicely formatted emails include direct links to the record in your account such as activity or lead.
General Updates
Search bar listing types dynamic – The search bar on our land brokerage websites just got better.  The listing types dropdown listbox is now dynamic based on the listings you have available.
Opt In Added to Website Lead Forms – All land brokerage website lead forms now have an opt-in checkbox for any website lead to join your email newsletter list.
PDF Maps Now Open in New Tab (vs download) – Previously when a website visitor would click on a map button it would automatically download the PDF.  We changed it to now open in a new browser tab instead.  Users are still able to download/save the PDF if they choose by clicking the download icon in their favorite browser (Chrome, Safari, Firefox, Internet Explorer, etc).
Features Coming Soon
Similar Properties on Websites
Featured Photos
Custom Map Pin Colors on all Properties MapView
Listing Rep Photo on Listing Detail Contact Form
Have questions?  Reach out to our team online here.