Announcing MLS IDX for Land Broker Websites
REALSTACK now offers MLS IDX solutions for land brokers! We can now integrate many MLSs into land brokerage websites, offering groundbreaking solutions explicitly tailored for land brokers.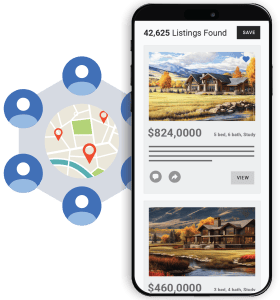 With an IDX website for land brokers, you can increase leads for your agents. Creating new relationships with prospective clients is the lifeblood of success in real estate. Any brokerage leadership always looks for ways to generate more agent buyer leads. This ability on your website can help attract new agents and retain top-performing agents.
IDX Websites Key Benefits
Attract more prospective buyers to your website

Generate buyer leads for your agents

Display your agents on MLS listings

Attract and retain agents
Key Features
Toggle Between Your Listings and MLS Listings 
No need for website visitors to visit a separate page or link to a different system to view MLS listings on your website!  With REALSTACK, website visitors can search and view your listings and toggle in one click to the MLS listings on the same webpage.
Round-Robin Lead Assignment System 
The REALSTACK MLS IDX websites allows you to configure the MLS lead routing by putting your agents in one or multiple groups with a set of criteria. When a lead matches the set criteria, the leads are distributed evenly among that group of agents. It's a win-win for brokerages and their agents. Agents get new leads to build or maintain their income, and brokerages keep their agents fed, which helps the bottom line.
In addition, the round-robin lead assignment system will rotate the display of agents on each listing.  So, as leads convert on an MLS listing, the system will display the next agent in order.
Create Landing Pages with Listing Collections
With REALSTACK's expansive listing collections system, you can now create unlimited categories of MLS listings based on cities, counties, regions, listing types, and more. These result in landing pages that can be used for search rankings, social campaigns, paid search, email campaigns, and general website visitors to find listings on your website.
Unified Website Styling
With REALSTACK, MLS listings are fully integrated into your website, so the user experience and styling are the same across your entire site.  Don't settle for linking to an external MLS system with a completely different style and listings search functionality.
Simple and Advanced Search
A comprehensive search system is a core user experience on a website.  With our MLS search, website visitors can search by state, county, zip code, acreage range, price range, listing types, and more.
(Optional) MLS Properties Map Search
The industry-leading Properties Map Search from REALSTACK now supports MLS listings.  Imagine 1,000s of listings on your property map for a fully immersive experience for your website visitors.
Request an IDX Websites Demo
Take advantage of this opportunity to transform your real estate game. Start generating quality leads for your agents and provide value to land buyers now! Our team is standing by to talk about MLS IDX websites with you. Contact our team to make it happen today by requesting a demo.