The team at REALSTACK has been locked away working in a dark room cranking on new products and features, but we still managed to add some helpful features and fixes in recent weeks requested by clients. We'll always keep listening no matter how busy we are conquering the world.
New Features:
Lands of America feed now runs every 3 HOURS!!! Yes, you read it correctly.  REALSTACK is the industry's first to offer continual daily updates to your Lands of America properties through our robust feeds platform.  That means your listing updates get published on LandsofAmerica.com within a maximum just several hours.  Bam!
New reports now LIVE! We are capturing so many leads for clients that we had to build more reports.  The platform now has 3 categories of reports: Leads, Listings, and Deals.
Leads
Leads by Date
Leads by Listing
Leads by Source
Leads by Conversion Type
Listings
Listings Performance Report – single page view for individual listing leads, showings, campaigns, deals, and more.
Deals
Deals by Date
Deals by Stage
Deals Aging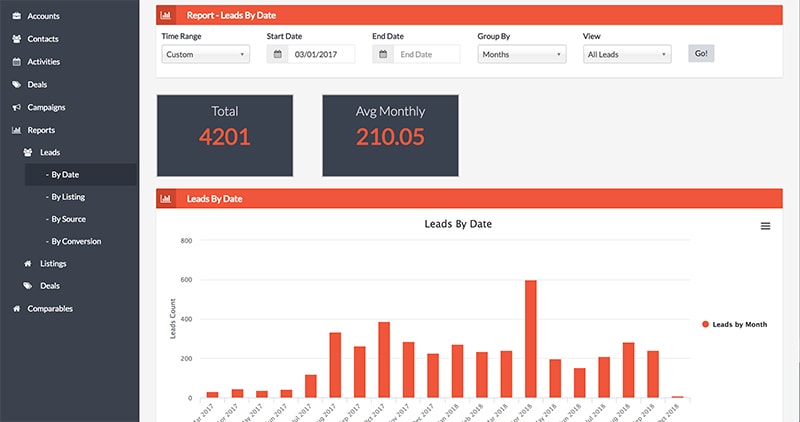 All tables now maintain state – what is "maintain state"?  Well when you chose a filter and/or sort on the listings table, navigate to another web page, and then return to the Listings table …voila the table still has the same filters and sorts as previously set.
New listing types – "Single Family" and "Lot" have been added as listing types.
Listing type change – "Residential Land" listing type is now changed to "Residential Property".
Help & setup additions – We've started a YouTube video channel and playlist with some videos to help you get started with REALSTACK. You'll see new icons and text now in the top right corner of your screen after you login. Watch some of our vids and let us know what you think AND what videos you want us to create next.
Other Notables & Bug Fixes:
Acreage decimals increased – listing acreage now support 3 decimal places (thousandths) instead of just 2 (hundredths).
Logging Multiple Activities – Submit & Create Another Activity now defaults the activity status to 'Not Started'.  This is very helpful when completing one activity and then planning for the next follow-up activity.
Create New Contact from Account Detail – previously Contact Address 2 field was not auto-populating from the Account Address 2.  This has been corrected.
Deals table – now displays the Deal Stages in the filter listbox in the order of the sales funnel.
Listings table – now displays the County Name for each listing.
Print preview – the web display of the print preview has been corrected.
Reports menu – with all the new reports, we needed a much better way to categorize and organize the reports.  Reports navigation now has a menu tree which has 3 child navigation menu items with sub-items for each report.  Enjoy!
Activities on Listing Performance Report – a bug has been corrected where not all the completed activities were showing on the Listing Performance Report for a particular property.  This is now corrected.
Created and modified dates – a handy little addition, now on the listing detail and contact detail screens you will see the created date and last modified date.
Many new features are in the works, but we are always all ears when it comes to client feedback.  If you have a great idea or just a small idea that would help your brokerage, contact us and let us help you even more.