Upgrade your Website to Leverage the Latest Features
REALSTACK is thrilled to unveil the latest website software version, our most significant feature release to date! For the past several months, all team members at REALSTACK have worked together alongside many of our clients, contributing ideas and suggestions on how to raise the bar and make the best land brokerage websites even better. With this software release, the bar sits at new heights.
The latest features include a mix of all-new products, user experience enhancements, client-suggested features, refactoring existing features for performance improvements, and cloud server upgrades. REALSTACK brokerages can upgrade existing websites to leverage these latest features. Contact the sales team at sales@realstack.com or (972) 471-1424 option 1.
All New Listings Search, Organize, and Display
All things related to displaying listings or groups of listings were a significant focus in this release. Several factors influenced this focus on listings:
Google's Core Web Vitals becoming an important ranking factor
The need to expand the ability for land brokers to rank for more keywords
New technologies are available to improve the user experience while browsing our land brokerage's websites
Look at what is new in the latest REALSTACK land broker websites product.
Interactive Map, Filter Listings by State and County
When searching based on geography, it is often easier for a user to visually see an interactive map to select the desired area. With the REALSTACK interactive map filter, users can view states, zoom in to see counties, mouse over each county for the county name and listing count, and add one or multiple counties to their search filter. This interactive map is super easy to use and helps website visitors find the properties they are looking for.
Contextual Listing Search by any US State, County, and more
Searching for land most often begins with a location. REALSTACK's intelligent type search auto-filters a list for website visitors from all US states and counties to make it as easy as possible to search desired areas.

Listing Collection System
Think of listing collections as filters on your favorite eCommerce site where you can browse related categories such as Men's> Shirts > Long Sleeve. Similarly, with land listings, buyers can browse by categories such as All Properties > Texas > Hunting Land for Sale. Filters can be as basic or as advanced as desired, potentially supporting 1000s of collections on a land broker website.
The new REALSTACK version upgrade can build dynamic listing collection web pages for listing types, counties, regions, tags, and more. The criteria for collections are almost unlimited. Not to be understated, this new feature is highly robust, scalable, and can have the highest impact on potential search rankings.
Internal Linking System
If you know the first thing about optimizing your website for search, you know a crucial component is the internal linking of your pages. For this reason, REALSTACK has built a configurable and automated internal linking system for listing collections.
High-Performance Listings Grid
Built for performance, search bots can easily load the pages quickly while delivering users an industry-leading property search & filtering experience. The carefully crafted code by our development team significantly improves Google's Core Web Vitals scores and real-world page loading metrics.
Part of the listings grid but related to internally linking webpages, we've enhanced the pagination of the grids and improved the site breadcrumbs. Search bots love crawling a well-structured website quickly, and our website breadcrumbs system does just that.
To enhance user experience, the following improvements to the listings grid include:
Photo previews
Status flags
Video indicator icon
Photo count
Listing Detail Webpage Improvements
The all-new listing details webpage focuses on the user experience and lead conversions. View a sample listing detail webpage to recognize the pattern of these two priorities. View example listing detail webpage.
Feature highlights include:
Click-to-call and click-to-text features – land brokerage websites often have over 50% mobile traffic. With this known fact, the new upgrade makes it easier for website visitors to get in touch with land real estate agents. A mobile visitor can call or text the listing representative with a simple tap.
Contact agent lead form – the latest website version place the "contact agent" form above the fold and inline, increasing lead conversion rates for brokerages.
Next-Gen photo format – the latest technology in web photos, webp, is implemented in the new version. This technology is a web-optimized image format that retains the quality of the original image while dramatically reducing the page size and load times. For fast-loading high-resolution images, webp is strongly recommended per Google's guidance.
New photo gallery technology – rebuilt from the ground up, this state-of-the-art gallery offers snappy photo loading, full-screen views, and a large display of high-resolution images. Best of all, it works flawlessly on a mobile device with common gestures such as pinch & zoom, and swipe. Furthermore, integrated into the photo gallery is a video display.
Mobile UX improvements – From a user and technical perspective, the mobile user experience is new and improved. Website visitors now have a smooth view from their smartphones for information, calls-to-action, video, maps, and more. Moreover, the new mobile view scores even better with Google's Core Web Vitals.
Maps & more – REALSTACK has long offered users the ability to embed the land industry providers' interactive map embed and PDF maps display. The new upgrade extends this further by now offering the option for KML file download and a "Get Directions" button directly on the website listing. Accessing this button will give users Google Maps turn-by-turn directions to the property. With this feature, meeting a prospect for a showing has never been easier. All they need is the website listing.
Offices and Agents System

For brokerages with multiple offices and agents, REALSTACK'S ability to handle the multi-office structure exceeds expectations. Whether you have a few agents or hundreds, the all-new REALSTACK agent system showcases the team better than ever.
Offices profile system – create and manage offices within REALSTACK to display on your website. The offices are searchable on your website, and each has its detailed webpage. Showcase specific office information such as agents, active listings, sold listings, office website link, and even route leads directly to that office.
Agents profile system – similar to the office's system, agents can be created and managed within REALSTACK. Website visitors can also search and view each agent's profile webpage.
Agent profile webpages have new features that include:
Lifestyle photo gallery
Testimonials management system
Personal video
Available and sold listings
Lead contact form
Accreditation logos
Read this helpful article to learn how to update agent profiles.
New Spam Filtering
Powerful spam filtering and protection for lead forms are now available on your website. The REALSTACK spam filtering system stops bots and manual spam from reaching you with high accuracy and privacy. We block spam based on:
Spam score
Machine learning models
Multiple blocklisted IPs lists
Advanced content analyses
Spam word pattern detection
Language restrictions
Country restrictions
Email restrictions
Listing Management Updates
Preview your listings – preview your listings before they go live on your website and land marketplace sites. Want to send a listing to your property seller before it goes live? Now you can! Learn how to use our preview listing feature.
Featured sold listings – are those sold trophy listings in a file cabinet somewhere? Now you can display all your featured sold listings on your website for all your future sellers to see. See the example.
Latitude and longitude picker – we've made getting the latitude and longitude of your property much easier! No more copy and pasting. Just set it and forget it. Learn how to use this feature.
Upload and display other documents on listings – REALSTACK users can now upload miscellaneous PDF documents to a listing to be displayed on your website.
Photo sorting updated – the drag and drop photos display was refactored for smoother photo dragging, and you can now enlarge each thumbnail photo for a better view.
Auction sale type added – we have extended the sales types to include Auctions. With the auction sale type, you can display the auction date, time, address, and link. The link can go to external auction software.
Recent Land Marketplace Integrations
Add-on Features
Land broker websites on the latest version of REALSTACK have powerful add-on feature options to include in their website! Check out what's new and what is to come! Additional subscription fees apply for add-on features.
Properties Map Search
Drive engagement with maps designed for land buyers to find properties. Explore self-guided 360-degree tours of a property, 3D map views, property boundaries, and more interactive features.  Try it out for yourself here.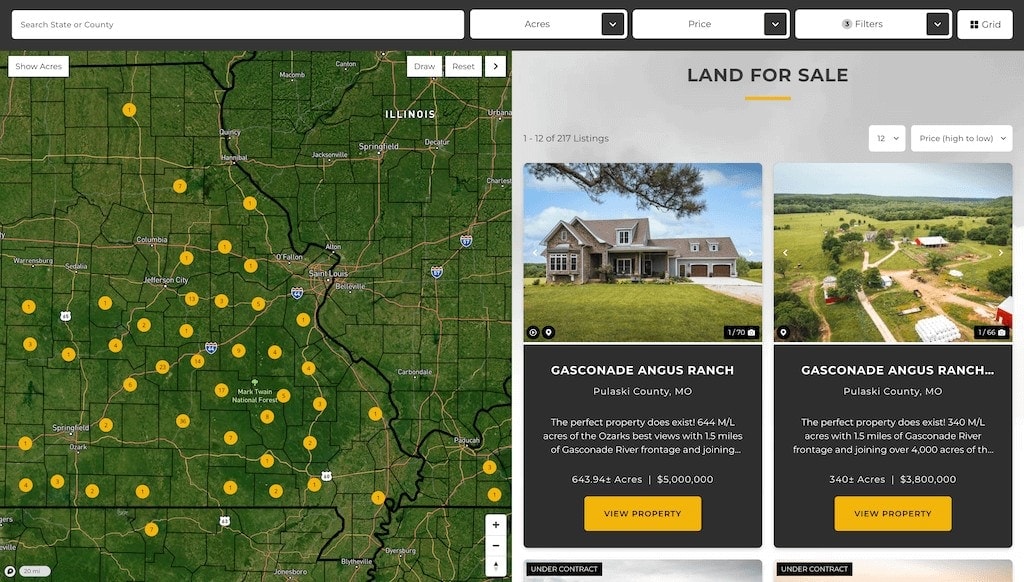 Visitor Profile System
Connect with website visitors and keep them coming back. Website visitors can create a profile on your website, save listings and searches, and receive automated notifications about saved listings and searches.
MLS IDX
Seamlessly display MLS listings on your website coming soon!
Ready to Upgrade your Website?
Take advantage of the latest technology in land brokerage websites.  For existing REALSTACK brokerages, it is as easy as upgrading.  Contact the sales team at sales@realstack.com or (972) 471-1424 option 1.
If you are a brokerage considering the REALSTACK all-in-one brokerage platform, now is the time to build your best website yet!  Start by requesting a demo now!